By Robyn Forbes
Along with the summertime comes a bit more free time for most of us, and that usually leaves us figuring out ways to ward off boredom. Nowadays, however, with an endless arsenal of technology around us, there is always something to do. Here is a list of interesting and convenient pieces of technology and gadgets that are sure to make your summer a lot cooler.
In-pool/Waterproof Speaker
Summer is the perfect time for intimate get togethers with friends and families as well as epic backyard pool parties. Either way it's not a party if there's no music, and when it comes to large crowds a speaker is a must. But for events like pool parties or beach picnics, it can be kind of scary to leave your delicate speaker around to get wet. That's where in-pool and waterproof speakers come in. These fresh devices are able to withstand the splash and still pack a punch in terms of sound quality. They're great for gatherings around water or even for an in house party where someone is likely to spill a drink on the coffee table. In-pool speakers are an especially cool accessory as they can simply be dropped into the water and left to float around playing your favorite tunes, and make for a great conversation starter. These speakers can range in price but are typically quite affordable. You can find them on Amazon or at your local tech dealer.
Cirkul Drinking Bottle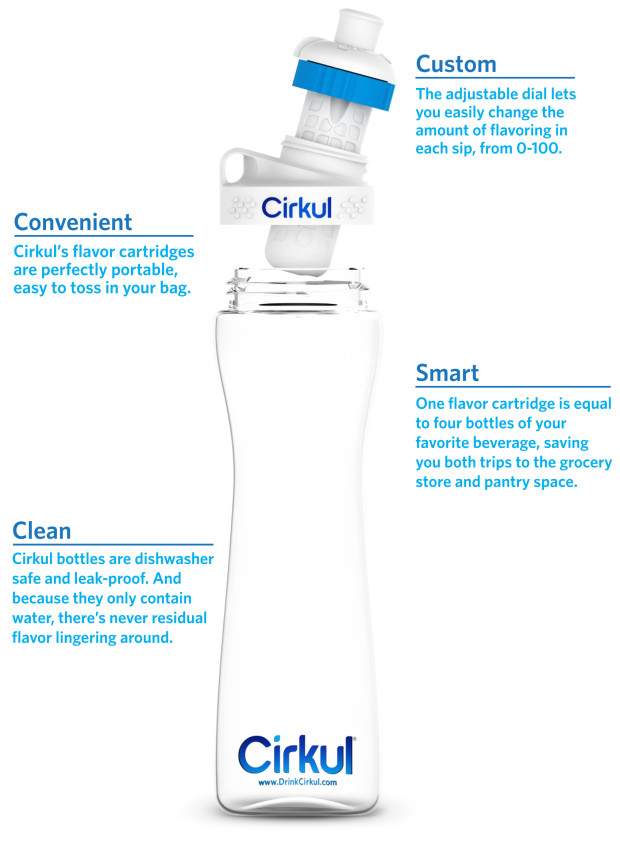 Now, there have been many infuser bottles to hit the market but Cirkul is different. This new water bottle began to gain traction among consumers around the spring of 2017 but will be especially useful for the summertime when everyone is trying to get in their long neglected exercise or simply drink more water. It uses flavor cartridges, known as Cirkul Sips, to add nutrients and taste to your water. The bottle comes with different flavored cartridges including Coconut Pineapple, Mixed Berry, Strawberry Watermelon, and several others. There are also different types of flavor cartridges. Life Sip cartridges are enriched with essential B-vitamins and simply add a nice flavor to your water; Fit Sip cartridges are ideal for during or after workouts and supply you with electrolytes to replenish what you've lost; and Go Sip cartridges provide you with a caffeinated kick to get through your day. What really makes this bottle cool is the dial on its lid that allows you to choose how much flavor is infused into your drink with every sip. Cirkul aims makes the drinking experience a new and personalize one every time you take a sip.
Pod Tracker
The Pod tracker is the perfect accessory for pet lovers this summer. During the summer months is when you're most likely to be spending time with your pets outside. If you worry about losing your beloved dog or letting your kitty get away Pod is a great solution. Compared to other tracking devices it is a much better value considering its capabilities. It has WiFi, is waterproof, lightweight, has a removable battery and expandable battery option, is safe for small animals, and works in 175 countries. When used on your pet(s) Pod allows you to monitor their physical activity so that you know if your furry friend is getting enough exercise and even lets you see which spots your pet visits most. The Pod can also be used for things aside from pets and offers a 'Safe Zone' setting which allows you to set up parameters for what area is safe for your belonging to be in. Once the object or animal leaves what is considered the 'Safe Zone' you will be notified through an app on your mobile phone.
RIVER Mobile Power Station
The RIVER mobile power station is a great summer find for those who take interest  in outdoor activities like camping or even those who just like throwing outdoor parties. It supplies you with power to charge your cell phone, laptop, electric instruments, drone, projector, and even appliances for several hours at a time. The RIVER can be recharged through a wall outlet, car jack, or using solar power. It's lightweight, provides clean, smart power and can hold its charge for up to a year. This will work perfectly for charging electronics while on family road trips, camping or hiking trips, or for powering amplifiers or friends devices around a bonfire. It can also make for a perfect backup generator at home. This piece of technology is a bit of an investment at $699 without the solar panels or protective case, and is probably more attractive to professionals who work on the go. However, it can still make for some great away-from-home experiences for anyone willing to pay for the convenience.
Fidget Cube/Spinner/Toy
We were all present for the rave caused by the handheld toy known as the fidget spinner, but there are several other similar toys out there that are sure to have you just as addicted this summer as the popular fidget spinner. Fidget spinners and fidget cubes make for great summer travelling toys that can keep you busy without taking up too much space or requiring to be charged. They make for a great hand workout or quick and easy gift idea and also tend to be really cheap. You can take them to the beach, on a plane, or pretty much anywhere as they can fit into your pocket or backpack. You can find several different types of fidget toys online at retailers such as Amazon or Gadget Flow.
Electric Skateboards
First it was the hoverboard, now the electric skateboard has stolen the show. Electric boards have really been racking up a lot of attention lately and they seem to be a great deal of fun to use. When it's hot outside and you get tired of taking step after step an electric skateboard can make getting from one place to another a lot more fun in the sun. These boards come with remotes which allow you to control your speed and direction with minimal physical exertion. They are a cool and attention grabbing piece that takes cruising through the town to a new level. The boards are bound to be a popular sight this summer and range in price from under $100 to well over $1000.